General clinical examination was unremarkable. Orthopaedic examination showed abnormalities associated with previous cruciate surgery as well as lameness on all four feet due to claw disease. Dermatological examination found discharge from the claw fold, dystropic claws and multiple missing claws. There was no other evidence of dermatological disease.
DIFFERENTIALS
Bacterial or fungal infection

Demodicosis

Immune-mediated disease such as pemphigus foliaceus and vasculitis

Neoplasia

Symmetrical lupoid onychitis (SLO).
DIAGNOSTICS
Under general anaesthesia, all four feet were radiographed to assess for presence of osteomyelitis. Cytological samples were taken from multiple claw beds as well as hair plucks. Bacteriological and dermatophyte cultures were taken and submitted. Blood samples were taken for haematology, biochemistry and thyroid panel. Urinalysis was performed.
Cytology showed mixed bacterial overgrowth only. No ectoparasites were noted. Biochemistry, haematology, thyroid panel and urinalysis were within normal limits and dermatophyte culture was negative.
Clinical signs alongside diagnostic results were consistent with a diagnosis of SLO with secondary bacterial overgrowth.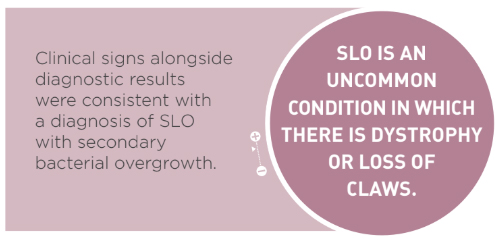 TREATMENT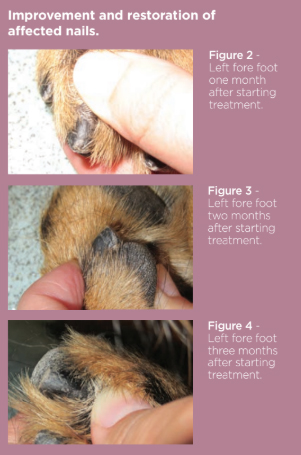 Given the disease severity the following treatment regime was initially instigated:
Ciclosporin – 200mg PO SID.

Pentoxifylline – 600mg PO TID.

Paracetamol / codeine – 409mg PO BID.

Firocoxib – 227mg PO with food SID.

Climbazole / chlorhexidine – apply to all four feet SID 1 week the EOD.

Omega 3 and 6 supplement – PO.
The owners were made aware of the risk of bleeding dyscrasias with concurrent use of pentoxifylline and firocoxib. After one week of treatment, paracetamol was discontinued.
One month on, the patient was reassessed. There was no evidence of paronychia and new claw growth appeared normal at the claw bed. Pentoxifylline was reduced to BID.
Two months on, the patient was continuing to improve and pentoxifylline was reduced to SID. Gabapentin 300mg PO BID had been started after a further orthopaedic appointment.
Finally, three months on, pentoxifylline was stopped. The following remained in place:
Ciclosporin – 200mg PO SID.

Gabapentin – 300mg PO BID.

Firocoxib – 227mg PO with food SID.
DISCUSSION
SLO is an uncommon condition in which there is dystrophy or loss of claws. Rapid or insidious onset of lameness can be associated with onychomadesis (nail shedding), onychalgia (nail pain) and paronychia (infection in the nail bed). Several other diseases (including leishmaniasis and pemphigus foliaceus) can present similarly.
The cause and pathogenesis of SLO is unknown however trauma, infection, auto-immune disease, genetics (in Gordon Setters) and proximity to vaccination have been suggested1,2. Adverse food reaction, atopic dermatitis and systemic lupus erythematous are considered underlying conditions to the development of SLO2.
SLO can be diagnosed based on characteristic clinical signs as described here and can be differentiated from other diseases by histopathology, however these changes are not pathognomonic. Histopathologic changes include hydropic and lichenoid interface dermatitis3. Onychectomy is usually required for histopathology, however onychobiopsy without onychectomy was described by Mueller and Olivry in 1999. Many owners, including in this case, are reluctant for onychectomy primarily due to cosmetic reasons, the painful recovery period and frequent aftercare. In this case, the owners had agreed to onychobiopsy if the initiated treatment plan had been unsuccessful.
There are numerous suggested treatment regimes for SLO including essential fatty acid (EFA) supplementation, combination therapy of tetracycline / doxycycline and niacinamide, pentoxyfylline, azathioprine and systemic or topical glucocorticoids have all been used with varying reports of efficacy5,6,7,8.
More recently, the efficacy of ciclosporin has been investigated alone and with fish oil9. Ciclosporin is calcineurin inhibitor, which results in a reduction of the activity of T cells and their immune response. As SLO is suspected to be an immune-mediated disease, treatment using ciclosporin can be considered suitable. This is off licence use and consent must be obtained.
In this case, and several others the author has treated, ciclosporin has been used as part of a multimodal approach to treatment. Each case is different and, as the pathogenesis of SLO is not confirmed, an optimal treatment regime has not been elucidated.
This patient is continuing to do extremely well and her owners are thrilled with her response.
1. Wilbe, M., Lund Ziener, M., Aronsson, A., Harlos, C., Sundberg, K., Norberg, E., Andersson, L., Lindblad-Toh, K., Hedhammar, A., Andersson, G. & Lingaas, F. (2010). DLA Class II Alleles are associated with risk for canine symmetrical lupoid onychodystrophy (SLO), PLoS One, 5(8), e12332 2010.
2. Mueller, R.S., Friend, S., Shipstone, M.A. & Burton, G. (2000). Diagnosis of canine claw disease - a prospective study of 24 dogs, Veterinary Dermatology, 11, p133-141.
3. Miller, W.H, Griffen, C.E & Campbell, K.L (2013). Chapter 19 - Diseases of eyelids, claws, anal sacs and ears. In: Muller and Kirk's Small Animal Dermatology, 7th Edition, pages 724-773. Published by Elsevier.
4. Mueller, R.S. & Olivry, T. (1999). Case Report Onychobiopsy without onychectomy: description of a new biopsy technique for canine claws, Veterinary Dermatology, 10, p55-59.
5. Bergvall, K (1998). Case report Treatment of symmetrical onychomadesis and onychodystrophy in five dogs with omega-3 and omega-6 fatty acids, Veterinary Dermatology, 9, p263-268.
6. Auxilia, S.T, Hill, P.B. & Thoday, K.L. (2001). Canine symmetrical lupoid onychodystrophy: a retrospective study with particular reference to management, Journal of Small Animal Practice, 42, p82-87.
7. Mueller, R.S., Rosychuk, R.A.W. & Jonas, L.D. (2002). A retrospective study regarding the treatment of idiopathic onychomadesis (lupoid onychodystrophy) in 30 dogs, AAVD and ACVD Abstracts, Veterinary Dermatology, 13, p226.
8. Paterson, S. (2004). Successful protocol for therapy of lupoid onychodystrophy: 12 dogs, ESVD & ACVD Abstracts, Veterinary Dermatology, 15 Supp 1, p41-49 (Abstract 54).
9. Ziener, M. & Nødtvedt, A. (2014). A treatment study of canine symmetrical onychomadesis (symmetrical lupoid onychodystrophy) comparing fish oil and cyclosporine supplementation in addition
to a diet rich in omega-3 fatty acids, Acta Veterinaria Scandinavica 2014, 56, p66.