The practical test device allows simultaneous detection in just 15 minutes of:
• Rotavirus
• Coronavirus
• Cryptosporidium parvum
• E. coli F5 (K99)
Product Features & Benefits:
• Ergonomic device makes testing easy and safe.
• Watertight packaging protects the reagents in wet environments.
• Suitable for use on farm, or in clinic.
• Accompanying results pad (included in the pack) enables clear presentation of results and easy record keeping.
• High sensitivity and specificity for detection of all four pathogens, gives results that you can trust.
Presentations Available:
Packs of 5 single use test kits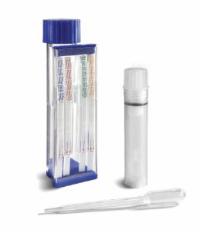 Use medicines responsibly. www.noah.co.uk/responsible.
Further information is available on the SPC or on request from Virbac Ltd.