Study
Reading time: 3 min
Control of the Home Environment in Contributing to the Successful Management of Skin Disease
23/40/2020
In this day and age we are blessed with many drugs to treat the cause and symptoms of allergic dermatitis which often results in topical treatments and simple environmental management routines are often not discussed with pet owners.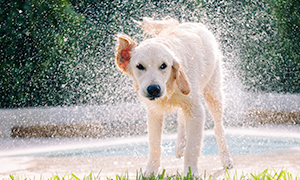 From adequate flea control to the use of shampoos, owners can make a real difference when it comes to improving the quality of life for their pets, it just takes a conversation.
Importance of Flea Control
I'm sure every vet has experienced a client vehemently denying that their pet has fleas and refusing to believe that fleas have caused the pet to scratch. In this situation, maintaining a good relationship with the client and taking time to discuss the benefits of flea control is crucial, especially in dogs with underlying allergic skin disease.
As we all know flea infestations are a flare factor for canine atopic dermatitis. Atopy will predispose dogs to develop hypersensitivity to flea saliva antigens which, if exposed repeatedly to flea bites, will eventually lead to flea allergic dermatitis1, which is why it is so important to convey to pet owners the importance of a strict flea treatment strategy for atopic dogs.
Control of Allergens
Environmental control against the developmental flea life stages should go hand in hand with the discussion of topical flea treatment, as it is well know that, infested environments often account for more than 95% of the total flea population.
Regular washing of covers on which dogs rest and the daily vacuuming of resting sites should be performed to reduce the number of flea stages. The use of adulticides in combination with IGRs can also be utilised and some of the available products have persistent activity over several months.
As house dust mite glycoproteins are the most common canine allergens worldwide, their environmental control would seem an appropriate measure to take. Studies have shown a statistically significant reduction in levels of mite allergens collected from carpets in the homes with atopic dogs when the environmental flea control was used in the preceding year. Dust mite control needs to be sustained due to the persistence of mite allergens in the environment.
Importance of Shampoos
The pathogenesis of AD is not fully understood but there is increasing evidence to suggest that defects within the epidermal barrier are likely to contribute to disease by facilitating contact with environmental allergens.
For this reason, maintaining and improving skin barrier function remains a vital component in control of AD. The simple act of bathing dogs at least weekly with a non-irritating, shampoo will help to aid skin barrier function by physically removing surface allergens and increasing the levels of skin hydration. A direct soothing effect from the shampoo and through the process of bathing can also relieve some of the clinical signs.
Topical Lipid Formulations
A sometimes forgotten therapy for the management of AD is a topical formulation containing biomimetic lipid complexes, which comes in a pet owner friendly spot on applicator.
The aim of topical lipid formulation is to improve epidermal barrier function. Studies have provide that complex lipids applied as a spot on helped to restore lipid anomalies within the stratum carneum of dogs suffering from AD2. Another suggests therapeutic and clinical benefits in dogs with AD3.
1.

Sousa and Halliwell, 2001; Olivery et al, 2010.
2. Piekutowska, A., Pin, D., Reme, C. A., Gatto, H. and Haftek, M. (2008) Effects of a Topically Applied Preparation of Epidermal Lipids on the Stratum Comeum Barrier of Atopic Dogs. Journal of Comparative Pathology 138: 197-203.
3. Fujimara, M., Nakatsuji, Y., Fujiwara, S., Reme, C. and Gatto, H. (2011) Spot-On Skin Lipid Complex as an Adjunct Therapy in Dogs with Atopic Dermatitis: An Open Pilot Study. Veterinary Medicine International 1-5.