News
Introducing Evicto
06/31/2020
Virbac is pleased to announce the arrival of Evicto, the new Selamectin alternative for cats, dogs, kittens and puppies.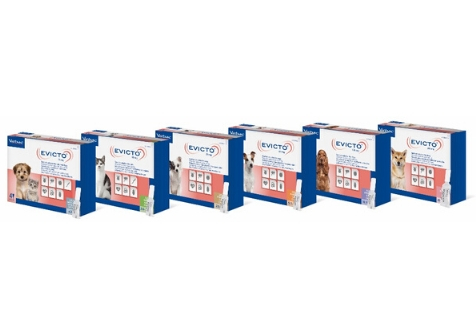 Evicto offers trusted and effective flea and worm protection in convenient to dispense 4 pipette packs. Transparent pipettes also provide reassurance to pet owners that the full Evicto dose has been applied.
Providing the perfect solution for dogs who like to swim or need regular bathing following long winter walks, with Evicto pets can be bathed 2 hours after treatment without loss of efficacy. Evicto is also licensed for use from 6 weeks of age making it an ideal choice for puppies and kittens.
Licensed for use in pregnant and lactating bitches and queens, Evicto provides adulticidal, larvicidal and ovicidal flea protection, which can also help to control environmental flea infestations in areas where the pet has access. It also treats ear mites, biting lice, intestinal roundworms, sarcoptic mange in dogs, intestinal hookworms in cats and can be used to prevent heartworm disease with monthly administration.
'We are pleased to add Evicto to our award-winning range of parasite protection products' said Claire Lewis, Product Manager at Virbac. 'Evicto can also be used concurrently with Milpro®, making it the perfect product partnership' she adds.
Evicto is available from the veterinary wholesalers now.
For information on Evicto, or any other products in the Virbac parasite protection range, please speak to your Virbac Territory Manager.