News
New VETEMEX – The Sympathetic Antiemetic
25/18/2020
Virbac is pleased to announce the launch of Vetemex, the new sympathetic antiemetic, for the treatment and prevention of vomiting and nausea in dogs and cats. With the active ingredient maropitant, a 56-day broached shelf life and a benzyl alcohol excipient, Vetemex boasts clear benefits for both veterinary surgeons and their patients.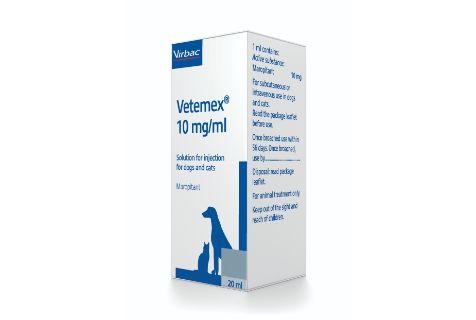 Benzyl alcohol has shown a 78% reduction in pain score immediately post-injection, and a 53% reduction in pain score in the 2-minute period post-injection, compared to the alternative excipient, Metacresol1. The trusted maropitant formula offers veterinary practices an exciting alternative antiemetic that can be used with total confidence.
'Vetemex is a valuable addition to the already extensive Virbac portfolio' said Claire Lewis, Product Manager at Virbac. 'We are pleased to be able to offer vets this new, and more comfortable to administer, antiemetic option' she added.
Vetemex is presented in a 20ml bottle, and is available from the veterinary wholesalers now.
For more information on Vetemex, or any of the other products in the Virbac portfolio, please speak to your Virbac Territory Manager.
1. Deckers N, Ruigrok CA, Verhoeve HP, et al. Comparison of pain response after subcutaneous injection of two maropitant formulations to beagle dogs. Veterinary Record Open 2018;5:e000262.