News
Hexarinse For Horses Introduced to Virbac's Growing Equine Portfolio
2019/02/05
Virbac is delighted to announce the addition of Hexarinse For Horses to the Virbac Equine range.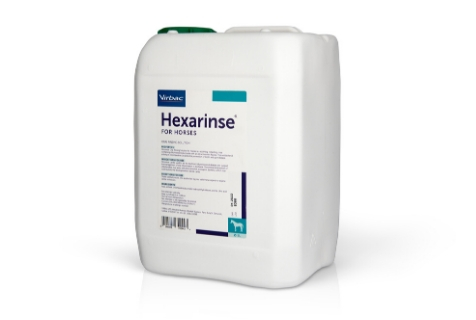 In response to the demand of UK equine vets specialising in dentistry, Virbac has introduced Hexarinse For Horses to their equine range in the UK. Hexarinse For Horses is an oral rinsing solution prepared specifically for horses that contains dilute chlorhexidine gluconate with an attractive mint flavour and does not require reconstitution.
Hexarinse for Horses is a convenient ready to use formulation which enables accurate administration, specially formulated with an attractive mint flavour to enhance acceptance to horses. The multi-use 5 litre container provides a practical volume for use in horses. The antibacterial action of chlorhexidine supports the maintenance of oral health after dental procedures and may aid the management of periodontal disease, oral inflammation and the management of peripheral caries.
For further information on Hexarinse for Horses, or any of the other products in the Virbac equine range, please speak to your Virbac Territory Manager.