News
New VETERINARY HPM® Wet Diets to Offer a Comprehensive Nutritional Approach to FLUTD
08/36/2022
We are pleased to announce the launch of two new wet diets for cats, designed to sit within the proven and established VETERINARY HPM® range, and specially formulated to help prevent and manage FLUTD (Feline Lower Urinary Tract Disease), a major health concern in cats.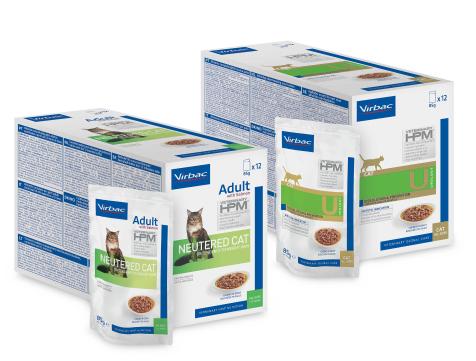 The new VETERINARY HPM® Adult Neutered Wet with Salmon (a lifestage diet) and Urology Cat Wet (a clinical diet) have been created in accordance with the VETERINARY HPM® philosophy, boasting a high-protein low-carbohydrate formulation and a high share of quality animal protein, respecting cats' carnivorous nature1.
With FLUTD diagnosed in 8% of cats seen by vets for non-routine appointments2 and a 51% risk of recurrence within one year of the initial diagnosis3, the importance of advanced nutrition to help promote urinary health cannot be underestimated.
"Feline specialists recognise the importance of nutrition and water intake in the management of FLUTD" explains Dr Rémi Mandray DMV MRCVS, Product Manager at Virbac, "so we are delighted to be able to add two high quality wet diets to the VETERINARY HPM® range and therefore offer advanced nutritional solutions to such an important health issue. Our wet diets are specially formulated to complement the current VETERINARY HPM® dry diets for cats diagnosed with or at risk of FLUTD".
The dry diets in the VETERINARY HPM® range already have many benefits when it comes to urinary health. All diets boast high levels of animal protein, which helps to stimulate water intake, increase the volume of urine and stabilise the pH for a healthy urinary system. In the lifestage diets, built-in supplements such as chitosan, a digestive chelating agent for phosphorus, limit phosphorus excretion in the urine for improved prevention of struvite crystal formation. The Urology diets in the clinical range meet the PARNUT requirements for dissolution and prevention of struvite stones or crystals, and prevention of oxalate formation.
The new chunks in gravy wet diets complement these existing benefits, naturally increasing the water intake by up to 50%, due to their high water content. Dry and wets can be fed together as part of a mixed nutritional programme, responding to pet owner preferences: 60% of cat owners use wet food, mostly mixed with kibbles4. And thanks to the VETERINARY HPM® pro-veterinary business model, vet practices can truly be rewarded for the important role they play in promoting correct nutrition.
For more information on VETERINARY HPM® wet diets, or any of the other products in the VETERINARY HPM® range, please speak to your Virbac Territory Manager.
References
(1) Hewson-Hughes AK et al. J Comp Physiol 2013; 183: 525-536 (2) Lekcharoensuk C et al. JAVMA 2001; 218(9): 1425-1435. (3) Gerber B et al. J Fel Med Surg 2008; 10(1): 16-23. (4) Technisens study for Virbac -2019